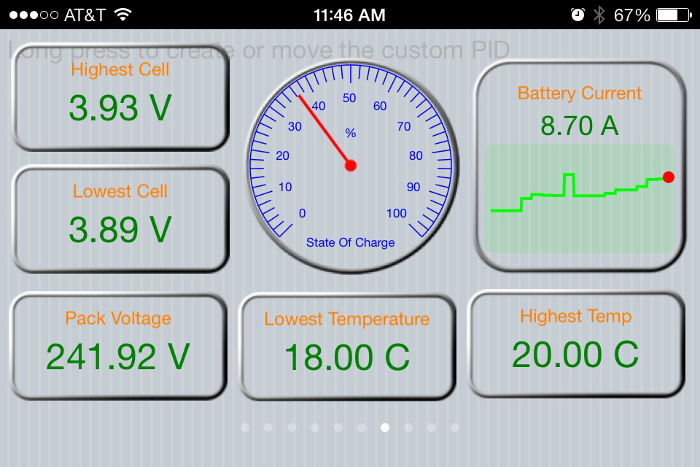 EngineLink is an application for Apple tablets and smartphones that interfaces with OBD2 enabled devices (via an ELM 327 OBD-II WiFi adapter) and provides visual feedback in the form of gauges and digital readouts of the various parameters and values provided. Due to the flexible OBD2 support of the Orion BMS, EngineLink works cleanly with the Orion BMS out of the box and many Orion BMS customers use this display.
Disclaimer: Ewert Energy Systems is not affiliated with EngineLink in any way nor does it guarantee support for EngineLink. EngineLink is copyrighted by its owners. Please contact the authors of EngineLink directly for support regarding this software.
Notable Features:
• Integrates seamlessly with the Orion BMS for displaying parameters and viewing & clearing error codes.
• Full configurable GUI with user choice of dial gauge, bar gauge, plot gauge, digital gauge, and on-off gauge as display elements
• Full custom PID support. Formular support. Preload standard PID library and Prius PID libraries. User can add more libraries within the app or by using iTunes File Sharing
• Multiple ECU support. Non-CAN, 11-bit CAN, and 29-bit CAN ECU bus types
• Multiframe data support
EngineLink's Official Website: http://www.ksolution.org/outdoor/enginelink.html
Required items to use EngineLink with the Orion BMS
1. An Apple smartphone or tablet.
2. A compatible wifi to OBD2 Adapter. EngineLink recommends an ELM327 OBD-II wifi adapter.
3. The EngineLink App from Google Play ($5.99 download here)
4. An OBD2 connector. These are present on modern vehicles or can be purchased from obd2cables.com. A cable like this one can be used if you do not have an OBD2 connector.
Wiring the wifi OBD2 adapter to the Orion BMS
EngineLink connects to the Orion BMS using a wifi to OBDII adapter which is wired in to the CANBUS network.


One of the CAN interfaces on the Orion BMS must be connected to the OBD2 connector that the OBD2 to wifi adapter is plugged into. A minimum of 5 wires must be connected to the OBD2 connector to operate:
| | |
| --- | --- |
| OBD2 Pin # | Connect to |
| 6 – CAN High | Orion BMS CAN1 or CAN2 High |
| 14 – CAN Low | Orion BMS CAN1 or CAN2 Low |
| 4 – Chassis Ground | 12v Ground |
| 5 – Signal Ground | 12v Ground |
| 16 – Battery Voltage | +12V (power for adapter) |
Full OBD2 Connector Pinout: http://en.wikipedia.org/wiki/On-board_diagnostics. If an OBD2 cable is needed, please see this cable.
The CAN network requires exactly 2 120 ohm termination resistors at each physical end of the CAN network. For more information on CANBUS wiring, please review the Orion BMS wiring manual (https://www.orionbms.com/manuals/wiring).
Note: The baud-rate of the connected Orion BMS CANBUS interface must be either 250 Kbps or 500 Kbps to conform to OBD2 standards. This setting is available under "Communications Settings" in the BMS Profile section of the BMS utility.
Note: The OBD2 ECU ID may be changed from the default value if this ECU ID is integrated into a vehicle that already uses this ECU ID. It is important that each ECU in the vehicle have a unique ECU ID. This setting is available under "Communications Settings" in the BMS Profile section of the utility.
Configuring EngineLink
Orion BMS PIDs (viewable parameters such as battery voltage and current) must be manually added to EngineLink.
See EngineLink's website for information on entering PIDs.
Click here for a list of Orion BMS PIDs.

AN2432 - Copyright (C) 2018 Ewert Energy Systems